Finally, I deserve it. :D




Hello LJ people. Thank you for caring in the past, and still continuing to do so (especially the people that followed my stuff on Multiply). :D



Check out the new Camera Shy song on our myspace! (link should be on my page here...)
Oh what? Life is good!
Current Location:

San Jose

Current Mood:

cheerful

Current Music:

"The Riches" Camera Shy


We can't have everything, though. It's sad to have things you won't appreciate until you lose them. But only caring about something you want is the only thing one could do.

Emptiness still leaves a space, but don't feel bad.
It's harder than I thought it would be. And to be honest, it wouldn't be as hard if I wasn't the only one who had to move on, if you know what I mean. It'll definitely give me peace of mind to know that you didn't just pick up and go.
Current Location:

San Jose

Current Mood:

Boo

Current Music:

"Stay Golden" Au Revoir Simone


Whew, things sure have changed. Summer's calling, but I'm still preoccupied with April showers. This time, I wish it were still early spring rather than summer vacation. Why would you want to meet new people when you still have so many questions to answer with old people? With that in mind, all one can do is judge the new people. Put a story behind unnamed faces. It's sad, but I'm sticking with it. I don't feel comfortable with learning about them. It's not yet the time to take the time, you know?

But still, I'm feeling better everyday.

At least that's what I'm telling myself.



Also, have you moved on if you have to keep reminding yourself that you've moved on? Who am I trying to convince?


Right.
Everything is starting to scab over. It's come to that point, where you scratch and scratch. It's not as hard to think about now, but it's still right there in my mind, constantly like an itch.
Current Mood:

angry

Current Music:

"By Myself" Action Biker



Mix For the Broken Hearted

Side one: Coping and Denial
"Golden Gate Bridge" Rose Melberg
"Spaces" Invisible Twin
"Every Day" Go Sailor
"Harsh" Apple Orchard
"Four Words" Brittle Stars
"Each New Day" Rose Melberg
"My Brittle Heart" Lucky Soul
"Dreaming (As the Summer Fades)" Apple Orchard
"Victor, Fly Me to Stafford" My Little Airport
"I Don't Like it Like This" The Radio Dept.
"So Sorry" Feist
"Darling, Please Come Home" Math and Physics Club
"Something Else" Rose Melberg

Side two: Moving On
"Goodbye" Elephant Parade
"Stay Golden" Au Revoir Simone
"No Longer Waiting" Brittle Stars
"I Will Follow You into the Dark" Death Cab for Cutie
"Guess How Much I Love You" The Lucksmiths
"Back in Time" Au Revoir Simone
"This Trip" Brittle Stars
"Someone Else" The Radio Dept.
"The Lucky One" Au Revoir Simone
"Take Some Time" Rose Melberg
"The La La Song" Casey Dienel




I like it at least.
Okay, so I've pretty much given up on making the 'Spring Skies' mix. My winter mix was a dud, but I'm pretty proud of this one. Not sure if I'm going to upload the song files, but if you want the lyrics to any song, I'll send it to you. I'll definitely keep you posted. The same artists pop up alot, but I don't think you'd mind if you listen to the whole thing.
Current Mood:

depressed


Three sentances later, I've changed my mind. Not sleeping just causes trouble. It's hard being awake nowadays. But it doesn't matter now.

Let's turn on a dime, shall we?
Four words. Four of them. Four lousy words can throw your life upside down, or right side up. Four shitty words can define how you will conduct yourself for however long. It could be as tragic as "Sorry, but it's terminal" or as simple as "Just leave me alone". It could be as great as "I love you, darling", or as crushing as "It's not working out".

All the same, four words says so much more than we give it credit for, and no one will admit it. Everyone (including myself) thinks that they're so damn special. Everyone thinks they're more complicated, too complex to be affected by four measly words. But no. Trust me. No matter how straight you stand, or how high you hold your head, you'll have no response to "in a friendly way". You'll be left speachless after "I don't love you".
Sad. I know.

But I guess there's a bright side. Everyone tells me there always is. An optimist would say, "You can never match the happiness you'll feel after you hear 'Will you marry me?'"... Oh, but what if you WON'T marry them? That's definite sadness for the poor sack who tried to propose.
"It's a baby girl!", I'll give you that.
"Congradulations Class of 2009!" Okay, that's fine
But what about "In Loving Memory of..."?
Exactly.

I should be more optimistic, but I just can't.


What four words describe me right now?
"I can't move on."
Let's face it, not being able to sleep can be a good thing. I guess this is a good thing. All I've been doing for the past 3 hours? Thinking. My brain is working harder than my body could ever take credit for.
Current Location:

San Jose

Current Mood:

crushed

Current Music:

"The La La Song" Casey Dienel
Maia Hirasawa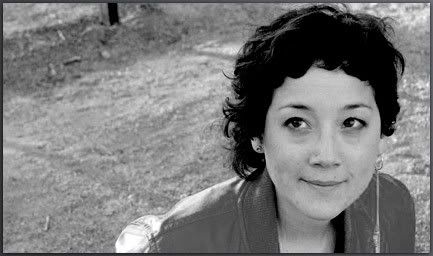 Oh please, don't worry. This isn't anime ending credits music. Maia Hirasawa is a singer/songwriter from Stockholm, Sweden (which seems to spit out good artists left and right). She has quite a few releases with
Razzia Records
, including "And I Found This Boy", probably my favorite song on her
MySpace
. She has a pretty good voice, and her songs are pretty catchy. The only downloadable song on her MySpace page is "Still June", a gentle song that shows off her voice.
On the other hand, sometimes she seems a little Melissa Etheridge, and that's not really my style. But I think she's still worth checking out.
(
And I Found This Boy music video
Collapse
)
Current Location:

home

Current Mood:

cheerful

Current Music:

"Gothenburg" Maia Hirasawa
Current Location:

home

Current Mood:

cheerful

Current Music:

"I Don't Like it Like This" The Radio Dept
Megamoog
If you have talked to me in the past few months, you've probably heard me raving about her.
Megamoog
is Megan Mook in real life. She's based in San Francisco and her amazing lo-fi videogameish pop has made her a usual at The Make Out Room. I say 'videogameish' because alot of her drumbeats and keys sound like they're spit right out of a vintage Nintendo Entertainment System (AKA NES). Don't be fooled though, as many have said, her music has what alot of others lack, and that is honesty. Most of her songs are filled with playful casio, monotonous drums from keyboards, and occasional guitars. Megamoog's cute singing voice doesn't hurt either.
Megan has a few releases with
Digital Cloud Records
, including the "Young & Naive" EP and the "My Friend" EP.
Hugpatch
also has Megamoog in their roster, but have yet to release anything from her. They had her visit the East Coast of USA, though, to play a few shows for them.
And something a little extra: I actually got to meet her at The Rickshaw Stop while Land of Ill Earthquakes and Pipas played. Really cool!
Current Location:

home

Current Mood:

bouncy

Current Music:

"Work & Play" Megamoog
So I'll just briefly talk about my current favorites to get you all familiar to the kind of music I listen to.
Belle & Sebastian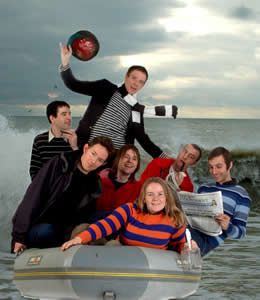 Hailing from Glasgow, Scotland, B&S is without a doubt my number one favorite band of all time. Belle & Sebastian is composed of Stuart Mardoch, Stevie Jackson, Sarah Martin, Mick Cooke, Richard Colburn, Chris "Beans" Geddess, and Bob Kildea. Former members include Isobel Campbell of The Gentle Waves, and Stuart David of Looper. They won a Brit Award, and have been included in many movies (my favorite appearance was in High Fidelity with John Cusack and Jack Black). My favorite album is "If You're Feeling Sinister", hands down.
You can visit their website
here
Camera Obscura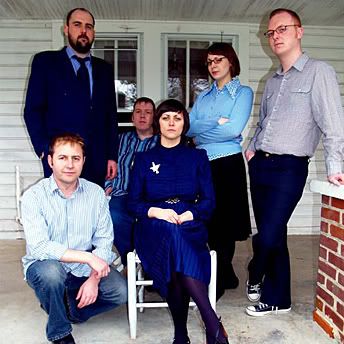 Another great Glasgow band,
Camera Obscura
reminds me alot of Belle and Sebastian, so that was one of the reasons I got into them. But the main reason for my love for them is Tracyanne Campbell. Other band members include: Gavin Dunbar, Kenny McKeeve, Carey Lander, Lee Thompson, and Nigel Baille. David Skirving was a founding member, but he left the band to start Califnornia Snow Story. Their newest album "Let's Get Out Of This Country" is filled with catchy tunes, but also has plenty of slower, beautiful folk songs. My favorite song, though, is "If Looks Could Kill", which is probably their most "danceable" (for lack of a better term) song ever.
Invisible Twin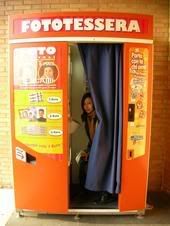 This band was introduced to my by my cousin Dale. Invisible Twin was formerly Shoestrings. Invisible Twin describes themselves as "Actively eavesdropping on another person's therapy session", which is pretty accurate with their problematic lyrics and heartfelt vocals. You can listen to three of their songs on their
MySpace
and an interview
here
.
Look out for their debut album, which is going to be released soon by
Le Grand Magistry
.
(
More Favorites
Collapse
)
Livejournal has always been an 'online diary' to me. But recently, I realized that I really have nothing to share. So I've decided to turn it into a part-time music blog. I will be writing about bands that I like, new bands I discover, album reviews, and things along those lines. I'm still going to talk about everyday things now and then, but mostly about music. Also, I'd like to thank Kuya Dale and Kuya Ryan for introducing me to almost all my favorite bands. Without them, I'd still be a gangsta. :)
Current Location:

home

Current Mood:

blank

Current Music:

"My Brittle Heart" Lucky Soul




I'm still alive. I pretty much forgot how to use this thing. I want to turn my LJ into a music blog, and just write reviews of indiepop/twee/shoegaze bands, but I don't have the patience. I'll try, but I don't have the audience.


So hey.






Summer vacation, too.
Just a quick note to let you all know,
Current Location:

home

Current Mood:

Heated

Current Music:

"William, It Was Really Nothing" The Smiths